Wooden folding massage table made of solid beech wood.Table can afford also occasional masseur due to favorable price. It is very practical and storable, space-saving system of wires secures the folding and unfolding within 30 seconds. Masseurs who often travel to customers appreciate storability and low weight. It can also be used as cosmetic or examination lounger.

The height is adjustable from 62 cm to 84.5 cm between 8 positions by 3.2 cm by wooden bolts. The new design has a boards between your legs cut for more masseurs leg space and enables better approach to facial massage.You also can easily adjust the tilt and height using a quick release of aluminum headrest for maximum comfort. Second option of headrests is opening for face in the structure, which can opened by pulling the plug out. Synthetic leather is lined with 4 cm thick high density foam.

All legs have rubber coating which makes the table does not slide across the floor and has high stability.

The price of table includes all accessories which are on this picture: headrest mount, headrest, armrest, side armrests. The accessory can be withdrawn and kept inside the table. 2-year warranty. With table we recommend to buy a bag which is practical for carrying and avoid mechanical damage of leather.


The Lipt D-05 massage tabel is a full-fledged and stable massage table, which you can fold down in an instant and transfer to where you need it. It will serve as a massage table for daily operation in the massage parlor and also as a portable mobile table for a masseur who travels to his clientele. This massage couch is appreciated by sports masseurs and physiotherapists, who can take it with them to races or other sporting events. It is also suitable for beauticians or as an examination bed for various types of therapies. The construction of the lounger is made of quality beech wood, which is light but very strong. Sufficient strength and stability is also ensured by the steel cable system. Unfolding and folding the tabel is really easy, and with a little practice it doesn t take the masseur more than half a minute.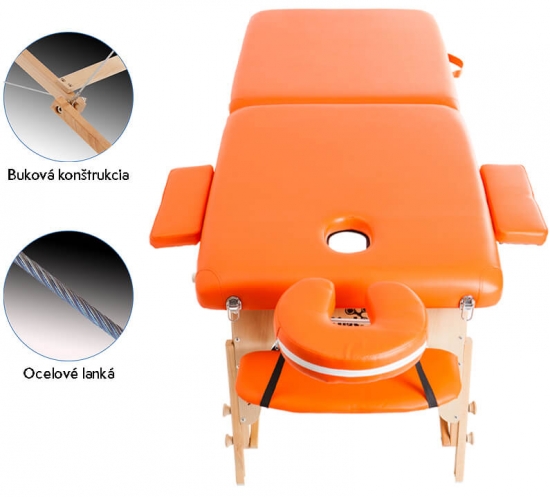 Always adjust as needed
Practical wooden matrices allow you to adjust the desired height of the lounger without tools. The height of the tabel can be adjusted from 62 to 84.5 cm. There are eight preset positions of 3.2 centimeters and the position and inclination of the headrest can be adjusted using a quick-release mechanism. The face opening is covered with a plug, which can be easily pulled out if necessary.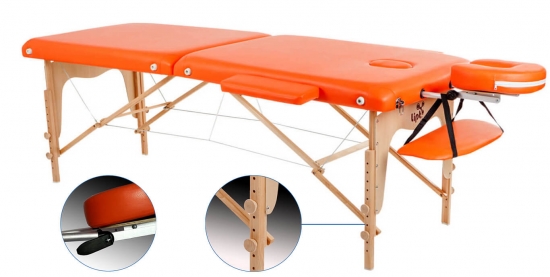 Quality leatherette and high comfort
The tabel upholstered with high-quality leatherette, which is easy to keep perfectly clean and lined with high-density foam in a thickness of 4 cm, offers pleasant comfort for the client. The new construction has boards cut out between the legs - thus creating more space for the masseurs legs, which allows better access when massaging the face or neck. To increase safety, stability and floor protection, the legs of the Lipt D-05 lounger are equipped with white rubber anti-slip pads. We offer the Lipt-D05 massage table in several color versions.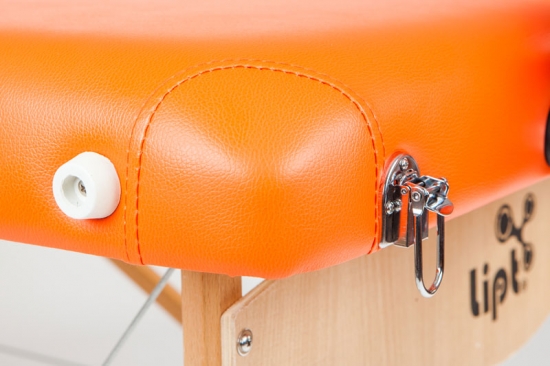 Rich accessories and easy transport
The price of the massage table includes other accessories: headrest, headrest holder, armrest and side armrests . All accessories are removable and can be stored in the space inside the massage tabel itself. 300 / 5000
Výsledky překladu
For safe and comfortable transport, the lounger and its accessories can be easily and quickly folded into a practical transport bag made of solid textile material, which reliably protects the leatherette cover from mechanical damage and dirt and allows you to have all the equipment nicely together.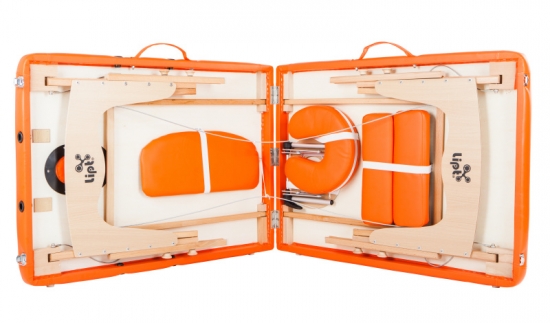 Weight without accessories
Často kladené otázky
Ako si môžem objednať?
1. zadaním objednávky na e-shope ako registrovaný alebo neregistrovaný zákazník
2. telefonicky v pracovných dňoch medzi 7:00 a 15:00 na čísle 0911 110 064
3. e-mailom na info@velvesa.sk
Ako môžem zaplatiť?
1. kartou online
2. na dobierku (v hotovosti alebo kartou kuriérovi)
3. v hotovosti alebo kartou (v kamennej predajni)
4. bankovým prevodom 
Neprešla mi platba kartou, čo teraz?
Platba kartou zvyčajne neprejde z nasledujúcich dôvodov: 
- zadali ste nesprávne údaje z platobnej karty alebo je Vaša karta je expirovaná
- nemáte dostatok finančných prostriedkov na bankovom účte alebo máte nastavený nízky limit pre platbu kartou
Čo ďalej?
Môžete si vybrať jeden z nasledovných postupov:
1. Prosím skontrolujte si údaje na karte a zaevidujte si objednávku znova. Zadávajte platobné údaje pozorne.
2. Ak ste sa rozhodli pre iný spôsob platby, vytvorte si objednávku znova a vyberte si platbu na dobierku alebo bankovým prevodom.
3. Zadaná objednávka ostáva u nás v systéme, takže v pracovných dňoch 7-15:00 kontaktujte náš zákaznícky servis, kde k Vašej objednávke vyberieme iný spôsob platby.
Je možné urobiť zmenu v objednávke?
Zvyčajne nie je problém zmeniť v objednávke množstvo alebo druh tovaru, doručovaciu adresu alebo spôsob dopravy. Prosím kontaktujte nás čo najskôr. Zmeny v objednávke, ktorá už bola zabalená a odovzdaná dopravcovi, žiaľ urobiť nevieme.
Kedy mi doručia objednávku?
Ak je Vaša objednávka zadaná do 12:00 v pracovný deň, bude Vám zásielka doručovaná nasledujúci pracovný deň. Platí pre tovar, ktorý máme na sklade. 
Ak tovar momentálne nemáme na sklade, budeme Vás telefonicky kontaktovať s informáciou o predpokladanom čase naskladnenia tovaru a odoslania objednávky.
Po vyexpedovaní z nášho skladu preberá zásielku dopravná spoločnosť: 
Kuriér DPD - v deň doručovania Vám príde e-mail s určením hodinového okna, v ktorom bude zásielka doručovaná. Zásielku si môžete presmerovať podľa pokynov dopravcu.
Kuriér GLS (iba paravány) - v deň doručovania Vám príde e-mail s určením trojhodinového okna plánovaného doručenia zásielky.
Zásielkovňa - v deň doručenia objednávky na Vami vybrané odberné miesto Vám príde e-mail / SMS s kódom pre vyzdvihnutie balíka a ďalšími pokynmi. Zásielku môže vyzdvihnúť ktokoľvek, kto nadiktuje obsluhe odberného miesta kód pre vyzdvihnutie zásielky.
Môžem tovar vrátiť bez udania dôvodu?
Áno, tovar môžete vrátiť bez udania dôvodu do 14 kalendárnych dní od jeho doručenia. Vrátený tovar nesmie byť poškodený. Tovar zabaľte do pôvodného obalu.
Ako mám reklamovať tovar?
Kontaktujte nás prosím pri každej reklamácii.
Záručná reklamácia
- do 2 rokov od zakúpenia tovaru
- riešime čo najrýchlejšie a dopravu zaplatíme my
Expres reklamácia
- pre vybrané produkty s ikonou expres reklamácie
okamžitá výmena kus za kus alebo výmena poškodenej časti
- nahláste nám do 12:00 v pracovné dni poškodenie alebo nefunkčnosť produktu (doručte e-mailom fotografie poškodenia či chyby)
- nasledujúci pracovný deň doručíme zdarma nový výrobok alebo náhradný diel
Pozáručná reklamácia
- riešime rovnako rýchlo ako záručnú
- náklady pri reklamácií znáša zákazník
- niekedy stačí vymeniť iba vadný diel a výrobok bude slúžiť ďalej - kontaktujte nás